New eatery Cholo Soy Cocina full of taste and color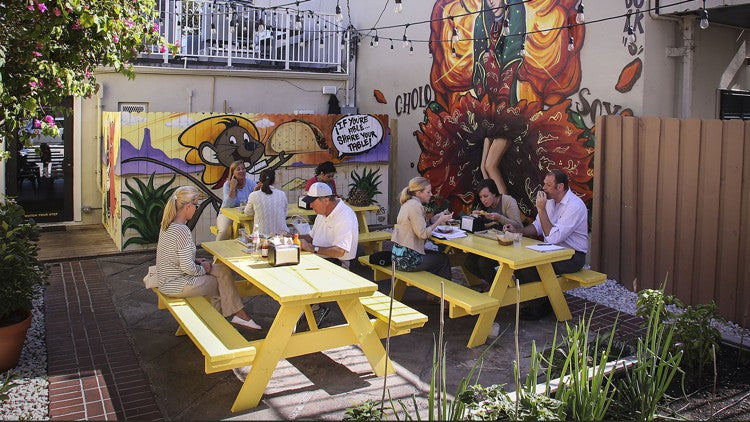 By Carleton Varney - Special to the Palm Beach Daily News
A new wave is always coming ashore on Antique Row. The shops across the bridge on South Dixie Highway always seem to be in flux, don't they? One season, a location might find its spaces and walls filled with Hawaiian prints and rattan furnishings and the next, French provincial and ornate jardinières. There are, of course, the constants, the shops that always there, the reliable design emporiums such as The Brass Scale and James and Jeffrey — two of my favorite places for shopping.
This season finds a newcomer on the block at 3715 S. Dixie Highway, but it doesn't sell furniture. Cholo Soy Cocina is a terrific bistro with an Equadoran accent. But more about that in a moment.
The previous occupant of the space sold furnishings — and still does, just across the street in Suite 100 at 3612 S. Dixie Highway Jacki Mallick's atelier specializes in a fresh mix of items in a range of decorative styles. I always remember the shop for its charming aqua-blue-and-white horizontal-stripe storefront.
That space now houses Cholo Soy Cocina, a must-stop for a great taco with a freshly made, hand-rolled tortilla shell. It starts with cornmeal, milled on-site, made from organic, non-GMO Florida-grown white corn. I have never tasted better.
At Cholo Soy Cocina, you can find a perfect mix with Andes-American cuisine served daily. From the Dixie Highway side, you can view the tacos being made.
The owner is Clayton Charles Carnes, a chef and gourmet, who worked for years in the Ecuador as a hotel chef. His wife, Gabriele, is also from there. Carnes, who graduated from high school in Palm Beach Gardens, has traveled about the world and his cuisine reflects his journeys.
Open since late September, the restaurant offers take-out service as well as indoor dining, and has a mixed industrialized style all its own. There's lots of metal, with visible ovens and stoves, along with tiles in rusts, whites and blacks, complemented by an array of Peruvian colors.
With metal tables and chairs, the restaurant draws a young crowd who enjoys the roasted ears of corn, spiced in the South American style. If you feel a tad lost about the avant-garde menu, simply ask Carnes what's what — and what to drink or mix with what. The cuisine — including the tasty yucca fries — is served in paper bowls. Carnes sees no need to wash up dishes when paper boats do the job so easily, and I agree with him.
Since the eatery has a garden, take a look to see all the Andes decorations painted on the walls. You might even feel you are in Machu Picchu. Picnic tables can accommodate groups of six or more, but feel free to join a neighbor's table if seats are free. The atmosphere is so friendly.
Carnes worked with his father, Chuck Bob Carnes, in putting together the restaurant. The two poured concrete, moved equipment, laid tiles, painted and wallpapered. In addition, creative Chuck Bob is a honky-tonk musician, singer and songwriter. If you're lucky to meet him, Chuck Bob may sing you a song while you enjoy the sweet corn salad, the best you'll find on Antique Row.
Leave a Reply