Nantucket a Destination and a Design Inspiration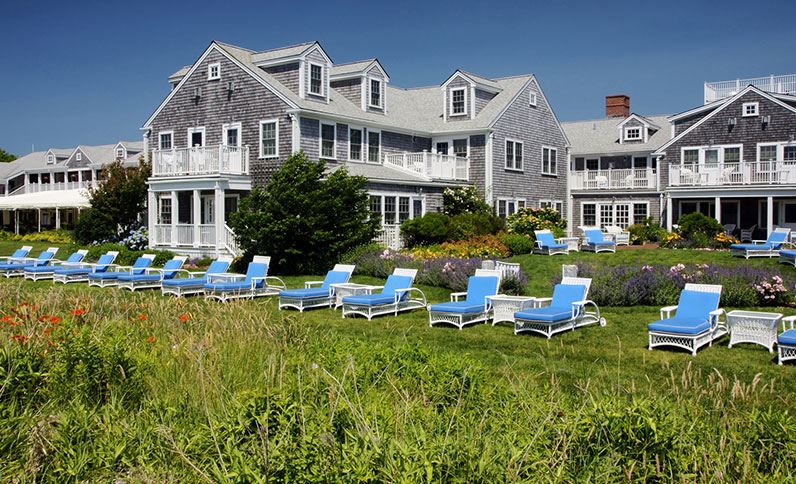 By Carleton Varney- Special to the Palm Beach Daily News
Summer may be in rear-view mirror, but I still have Nantucket on my mind for design and decorating inspiration.
When I think of Nantucket, I always think of weathered gray-shingled houses overlooking cobbled streets where the sidewalks wave because of their uneven bricks. It's a look you'll find in many historic Massachusetts towns.
But even amid the gray on this island off Cape Cod, there is color, color, color — thanks to the blue, pink, white and purple hydrangeas; the purple and white agapanthus; and the pink and white roses that climb the trellises affixed to the shingles. Nantucket is a garden island and is delightful to visit during the sunny summer.
Nantucket has so much old-world charm, and for sure it is the playground of Boston party-goers. Hotels and bed-and-breakfasts — often housed in old boarding houses — are all over the island. Many of these guest houses have interiors decorated in what I call "granny style." Now, I don't use that phrase as a pejorative. I think there is something lovely about heading over the river and through the woods to a cozy and charming place filled with a homey attitude.
Many of my friends who visit Nantucket in the summer stay at either the red-bricked Jared Coffin House or at the White Elephant, where the popular restaurant Brant Point Grill on the water is a wonderful experience.
You might find a granny-style room wallpapered in a charming flowered print designed by the late Louis W. Bowen. Rooms sometimes have a 1970s look with twin beds — quite honestly, twin-bedded rooms in hotels around America have been off the scene for more than a decade. Bedroom window treatments are lacking as well, with only a little white hanging valance as a window topper. These rooms are definitely those where Granny — and not the decorator — has done the picking.
Those who know me know I'm not a fan of an all-brown interior. But you'll find several Nantucket hotels decorated in brown and oatmeal tones, from the carpet in the public rooms to the woven fabrics on the upholstered pieces. Folks call it practical and durable, and I know that's something to consider when decorating a hotel constantly in use. In New England, where I was born, practical choices can be more desirable than glamorous fabrics. But it still makes me sigh a little.
But enough of those neutrals! I'm far more inspired by a gray-shingled house covered in climbing roses. To complement such a home, I would paint or wallpaper interior walls in the palest rose pink. Gray paired with pink and lavender is a super combination.
Mixing a weathered gray look with granny-style decorating also might mean choosing white wicker, inspired by those wicker rocking chairs you sometimes see on Nantucket's front porches. Complete your Nantucket-inspired color scheme with plenty of blues — from the deep color of the ocean to paler hues — and finish with splashes of red, the color of a perfectly steamed lobster.
Leave a Reply