Kassatly's - A Dream Shop on Worth Avenue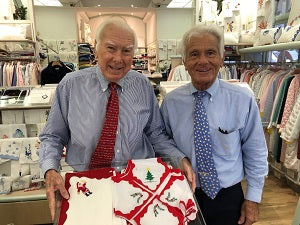 By Carleton Varney- Special to the Palm Beach Daily News
For many years, I dare not say how many, I have been fascinated by a shop at 250 Worth Avenue. Kassatly's Inc. has been in business for 97 years, and I look forward to joining the brothers Edward and Robert Kassatly, when they celebrate the shop's 100th anniversary in 3 more years. The Kassatly family has been a supplier of fine linens, table appliques, placemats, and napkins as well as cashmere goods and sweaters in every color-way imaginable to the ladies and gentlemen of Palm Beach. And the family, once upon a day, enjoyed a summertime shop in South Hampton, New York where Edward was born. Robert was born in New Jersey, to escape a hurricane hitting the shores.
Every time I walk down or up Worth Avenue I must pass the Kassatly brothers' store to view the windows filled with anything I would buy for my grandson, my sister and my sons. Yes at Christmas time I pick Kassatly's as my very favorite place to visit and to shop and Santa will be in the windows to greet us. The Christmas placemats and accompanying napkins sell for $185.00 rectangular shape and for $215.00 round shaped. When you visit the shop here, Edward or Robert will show you the handsome table cloths appliqued with joyous Christmas images that sell for $2,700 with 12 napkins made of the finest Egyptian cotton. The table cloth is one that will become a family heirloom.
Kassatly's also offers ladies night clothes, peignoirs and such, that are fit for a princess or a queen. And for the king in the family, I eyed a dressing robe in jet black Mongolian cashmere for $1,495 with a red silk lining. I suggest one for the Santa in your life! His eyes will sparkle to find the robe under the tree after his ride on the sleigh and descending down the chimney.
For the very best offerings from towels to cashmere, all from Scotland, the place I recommend this season for the sweater gifts for ladies and gentlemen is Kassatly's with cardigan and crewnecks in every color. The Kassatly brothers will show you a color chart a mile long of choices available. There is a lovely aquamarine blue fit for the mermaid in your life or a coral from the sea that she may like.
For my grandson I purchased a pair of little man pajamas for under $150.00 that the shop will Christmas wrap and send out for you.
And to Robert's wife Nancy – Happy Christmas! Your new shopping container is one of the greatest bag designs on the Avenue. I was proud to carry it down Worth Avenue for all passersby to see!
And so I wish all of you the happiest of Christmas times, a blessed Hanukah, and a merry winter season. Even in spite of it all you can bring joy into the world. And to your family and friends, closeness may not be possible this year, but we can all be connected with Zoom, text, and telephone.
Leave a Reply