June is the month for wedding gowns and window sheers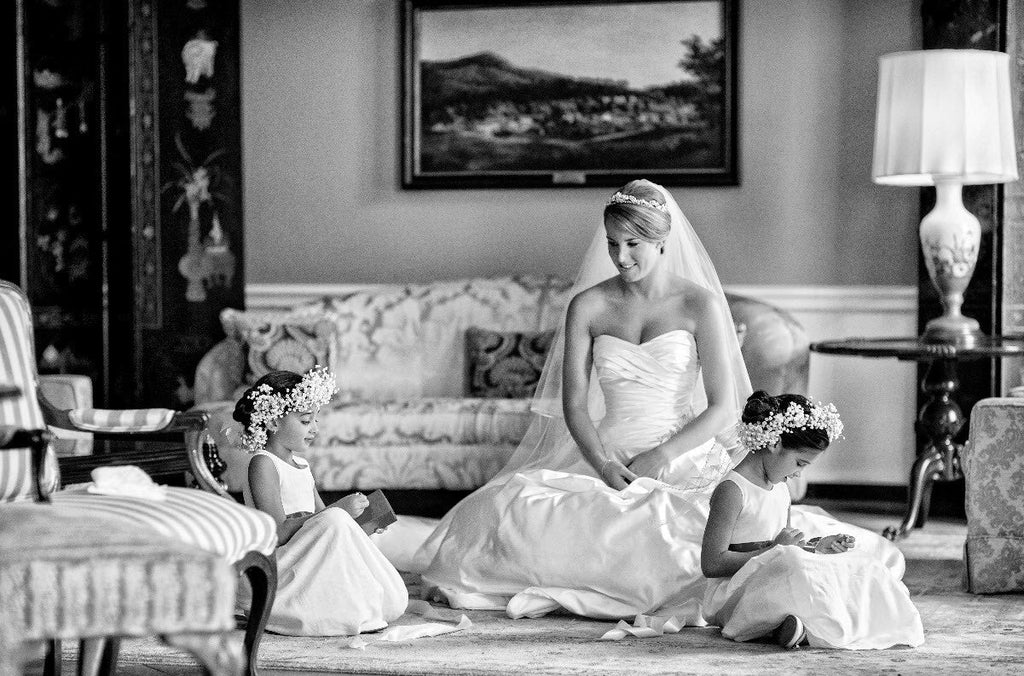 Special to the Palm Beach Daily News
By Carleton Varney
June is here — and that means it's bridal month all across the country, in all its white-laced and joyous moments.
Last Saturday I spent a few hours at Kleinfeld, the bridal emporium on West 20th Street in New York City. The store has been famous for many years and, more recently, has been in the spotlight as the background for the television series Say Yes to the Dress.
One of the owners, Mara Urshel, took time with me and a bride to be — the daughter of one of our clients — as an array of try-me-on bridal gowns and veils were presented.
I must say Kleinfeld has everything a bridal party needs for a dazzling wedding — there are oh, so many possibilities. There are gowns by famous American designers. There are bejeweled gowns, the sort that Grace Kelly surely would have loved. There are classically elegant styles that Jacqueline Kennedy Onassis might have favored — or Audrey Hepburn. I saw sequined styles and appliqué styles, gowns with big hoop skirts, gowns with puffy skirts, gowns of satin and silk. Some gowns were covered with pearls, others with crystals.
This bridal party is enjoying their special day in the Greenbrier's Presidential Parlor.
There might have been a reason to say "yes" to any of these dresses. But after our bride-to-be tried on a number of gowns, her "yes" was bestowed on a V-neck mermaid-style gown designed by Tony Ward. It was fashioned of silk zibelene, a heavyweight silk fabric with a twill weave that is low luster and holds its shape very well.
I would describe the design of the dress as Venetian European and very much Shakespearean, the kind of dress one might have seen in Elizabethan times, with its beautiful pleated skirt and slightly stand-up collar.
Seeing all the white dresses and veils and fabrics proved an interesting afternoon for a decorator who is familiar with all the styles of under-curtains available on the interior design market. If you are a traditionalist looking for a filmy fabric to cover your darkened windows during the evening, there are enough laces and appliqued fabrics available so that you can find the look for your own tastes.
Like bridal gowns, sheer fabrics come in bejeweled varieties. Some have crystals sewn into the weave to lend a bit of refined sparkle to the windows in your home. Tailored window-casement treatments can seem very modern in style, which are perfect for a contemporary home furnished in the leather-and-stainless-steel mode.
Every bride-to-be has a choice to make when selecting a gown, and every homemaker has a choice when selecting an under-curtain fabric for a room. Tambour-style panels, for instance, are perfect for an elegant French-style drawing room. Silk-stripe fabrics can complement a bedroom decorated in the traditional English style. I've seen lovely fabrics embroidered with images of shells or flowers — or what about a pattern of sheer-on-sheer polka dots? Very modern, indeed.
At the moment, for a Palm Beach residence, I have selected a shell-embroidered pattern for the under-curtains in the seaside bedrooms, which are perfect for lending the look of summer all year-round. The shell can be white-on-white or colored for visual interest. I like a soft aqua blue on white or, for a more subtle look, cream on white.
When decorating your windows, you'll see so many fabrics and styles that can be sewn into drapery, balloon shades, Roman blinds — about as many options as a June bride has as she pursues the wedding gown of her dreams.
Leave a Reply