America's Summer Place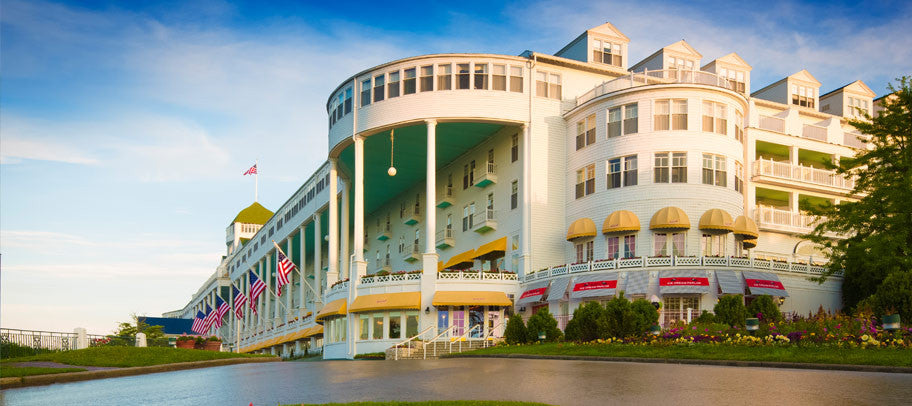 It is almost summer time and America's "Summer Place" – the Grand Hotel on Mackinac Island, Michigan – will open for its 126th season. Each year, our office designs new suites and rooms for the summer arrivals who travel by boat across the Straits of Mackinac to take in the summer breezes and enjoy the Michigan Musser hospitality.
The Grand Hotel is a privately owned resort, owned by the Musser family and is today under the management of Dan Musser III. To honor the memory of the late Mr. R.D. Musser Jr., with whom I, and our design team, worked for some 35 years, we have created, at the very top of the hotel, the Musser Suite – a suite with a staggering view over Lake Michigan and the Mackinac Island Bridge.
The suite combines the luxury that the Grand has always offered its guests – damask walls, custom designed carpets, crystal fixtures – with the simplicity and comfort of today. Deep cushy sofas, king size tassel detailed bedding and amenities, service bar, along with the beauty of color that Mr. Musser has always said represents the Mackinac Island style.
Geranium red, cornflower blue, azalea pink, mountain greenery – and for certain – hollyhock – white, yellow, red and pink.
The Lilac Festival has always been a highlight of the summer season on Mackinac and for the Musser Suite, all the lilac colors have been incorporated, from deep purple to lavender and white.
Visit the Grand Hotel for its 126th season and your sense of beauty and color and fragrance will be enriched.
Leave a Reply