Fall In Love With Autumn Colors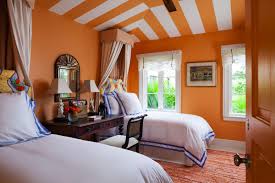 By Carleton Varney- Special To The Palm Beach Daily News
It's pumpkin time, a time to celebrate the harvest and to find the perfect costume for Halloween.
I always know Halloween is on the horizon when the costume shops pop up around South Florida. Who wants to be Darth Vader? Who wants to be Cinderella? Who wants to be a fierce pirate? Or do you just want to wrap yourself in a white sheet to be a ghost?
In anticipation of next Thursday's holiday, one my favorite breakfast spots, SouthEnd Kitchen in West Palm Beach starts decorating with fall leaves, scarecrows and big orange pumpkins atop the counters. During October, you are likely to find me ordering the delicious pumpkin pancakes at the restaurant, 6108 S. Dixie Highway at the intersection of Colonial Road .
Fall temperatures in South Florida may be far removed from the crisp air of New Hampshire or Maine, and our trees stay green year-round. But I find that Palm Beachers who grew up in colder climes still want to celebrate here with the traditional colors of autumn — rich pumpkin orange, golden yellow and red cranberry.
The colors of falling leaves in the Northeast can provide plenty of decoration inspiration for a Palm Beach family room. Begin by painting your walls a rich tangy pumpkin and all the trim white. For your ceiling color, choose corn yellow. For the windows, find a striped fabric with the October colors we love — corn yellow, orange and cranberry — on a white background. Your sofa would be smashing in a rich golden-yellow velvet-like fabric. Accent it with throw cushions in bright orange and pumpkin.
Upholstery for your club chairs might be a crewel fabric that has some butterscotch-colored threads woven into the design.
Underfoot, you can't go wrong with old-and-weathered pine planks, topped by a woven cotton area rug in shades of green.
If you are looking for the right flowers to place in a bowl or clay pot on the coffee table, think bright-and-happy sunflowers or yellow chrysanthemums.
And if your tummy is reminding you about pancakes, don't forget the SouthEnd Kitchen where the chef just might be mixing up some pumpkin batter.
Happy Halloween!
Leave a Reply