Dr. John Will Be Remembered Dearly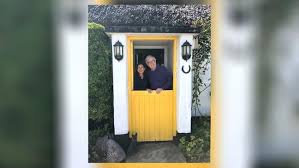 By Carleton Varney- Special To The Palm Beach Daily News
I plan to gather with friends Saturday at 11 a.m. at St. Edward Catholic Church to celebrate the life of Dr. John Whelton, a longtime Palm Beach resident who died Oct. 25 at 75.
Known to many simply as "Dr. John," he was originally from Ireland, a rheumatologist who practiced in Palm Beach County for more than 40 years and who was loved by so many of us.
Mahnaz, his wife of 51 years, played an important role in his life, as the couple socialized and participated in Palm Beach civic life and entertained in their Spanish-style villa on Golfview Road. Their home, which they bought 35 years ago, had a famous resident before the couple acquired it: The house is often called "The Opera House," because the late diva Maria Callas once practiced her vocals there each morning, much to the disdain of the nearby neighbors.
Dr. John, who served as director of the division of medicine at Good Samaritan Medical Center, was a man of many talents beyond medical practice. He had an eye for gardening, design, architecture and history, and he and his wife traveled the world, very often with their three children. Just this past summer, he packed up his crew and off they all went to South Africa.
He also loved his native Ireland and just two years ago treated his children and grandchildren — little ones included — to a journey to his native Cork, where he had graduated from the University College in Cork with his medical degree. He spent his internship and residency in internal medicine and rheumatology at Johns Hopkins University Hospital in Baltimore.
Dr. John was such a positive person who truly cared about his patients in every way. They would find him a jolly and fun participant in all things. One of his patients told me that his office personnel always decorated themselves in costumes for Halloween -- and so did he. Never an enjoyable moment to be missed.
When the Wheltons came to Ireland and spent a holiday with me in my home outside Limerick, John was the first to take early morning walks in the countryside. He would visit with my horses and donkeys, and so enjoyed my little West Highland terrier. Trips to Connemara and the hills of Clare were on his agenda, as he could never get enough of the beauty of the landscape.
I will miss him dearly. But I am so grateful for the love and care he showed so many of us. His was indeed a life well lived.
Leave a Reply