Easter Colors Mark the Beginning of Spring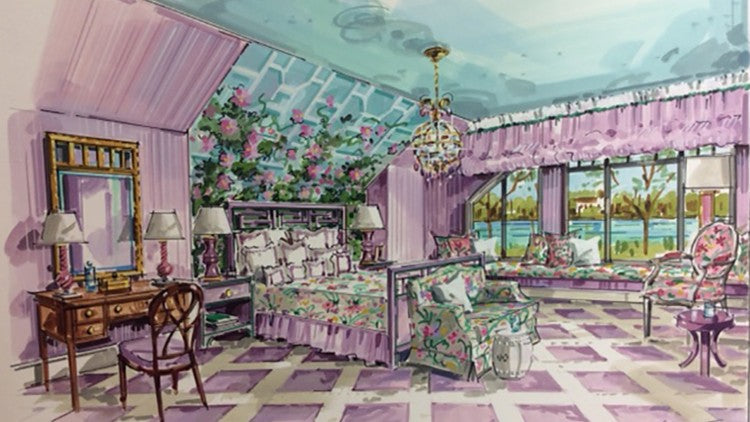 By Carleton Varney- Special to the Palm Beach Daily News
Decorating and fashion soothsayers love to predict which colors will be especially popular each year. Paint companies issue predictions, magazine editors opine, fabric firms join the chorus and, of course, we hear from color-expert Pantone, which has predicted ultraviolet as the color for 2018.
But no matter which hues earn hurrahs, when Easter rolls around, the popular colors stay the same, year after year.
Easter, for me, marks the awakening of spring. And for sure, robins-egg blue is at the top of my favorite Easter colors. That's followed by sunny yellow, petal pink and lilac lavender; and for those who love springtime, we can't leave out minty green. Color your eggs in these five tones, and your Easter basket would win favor with any bunny.
Just as Christmas has its poinsettia flowers, Easter has its white lilies, most probably grown on Bermuda. Easter lilies are one of the island's main exports to America. I love lilies in all varieties for their color and fragrance, but be sure to wipe away with a napkin all those dusty orange stamens or you'll risk having your table linens or the front of your shirt discolored.
If you're serving an Easter brunch, here are some ideas for a lovely table setting. Place a tablecloth of pink on the dinning room table with lavender napkins tied with robins-egg-blue bows. The table calls for all the colors in an Easter basket — and perhaps small straw baskets filled with jellybeans could double as placecard holders. The will bring smiles to the guests who will be enjoying the traditional ham glazed with pineapple rounds.
As I mentioned, I adore robins-egg blue, which I think can serve as a terrific neutral. It's a color that provides a great background for every other color in the universe. Try robins-egg blue walls trimmed with white crown molding. Add a rich chocolate-brown carpet, then add furniture covered in rich greens, browns, whites and hot poppy red. I can imagine throw cushions in the same hot poppy red and brown, with one or two in robins-egg blue. For curtain panels at the windows, find a fabric that matches your wall color. Trim the panels in chocolate brown and hang them from shiny brass rings threaded on shiny brass poles.
Right now, I'm decorating with Easter colors in a room in a Wisconsin residence. The room is a symphony focused on a single color — lavender — complemented by a robins egg-blue ceiling. There are many successful rooms with schemes that concentrate on one color alone. In a lavender room, an accent of an additional Easter color or two in a flowery print would work well on upholstered pieces.
The rendering accompanying my column today is such a room. Lavender provides the foundation, from the wall coverings to bed accents, from the balloon shades for the windows even to the bed sheets. Hooray for sheets today, which can be found wonderful Easter colors. You can mix sheet colors as well; use a lavender fitted bottom sheet with a pink topper and pillowcases of lavender, white and pink.
If you celebrate Easter, have a wonderful holiday. That goes for my friends who observe Passover, too!
Leave a Reply