Decorating with Pumpkin Orange Not a Scary Idea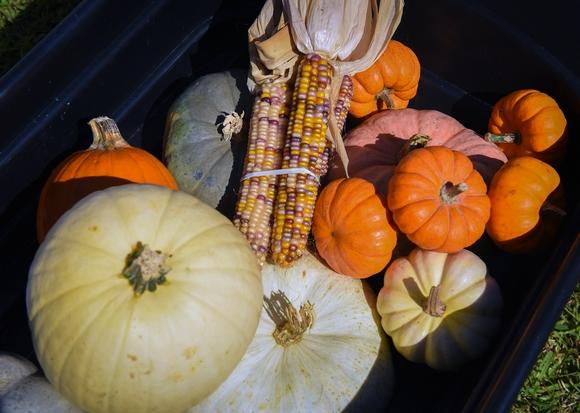 By Carleton Varney- Special to the Palm Beach Daily News
Come Halloween, I'm always reminded that pumpkin orange is a magical color for decorating rooms. Now, to be sure, the classic combo of orange and black has never made it big in year-round home decor. But pumpkin has become a staple, especially when you add in splashes of cranberry red and corn gold, which is truly an anytime treat for a room.
Let's start our decorating session today by painting your living room a rich pumpkin, maybe in a stripe using the deep color of the outer skin of the pumpkin with the softer orange that you find in its inner flesh. Once your walls are done, complement the color with woodwork in a lovely wheat cream. The woodwork should be painted in a semi-gloss enamel for ease in cleaning. For the ceiling, choose my favorite pale aqua blue, which is very soft, as in aquamarine, and very watery.
If you are a purist, simply refinish your wood floors with a natural pine or walnut stain, but be sure it has a light color. At the windows, I'd suggest wooden poles with wooden rings to match the floor stain. From them, hang drapery with a pattern of bright-orange poppies and green leaves against a golden-corn background. You might also consider fabric with yellow-and-orange nasturtiums on a chocolate or the gold background.
Yes, it is possible to find prints that will suit your fancy. If you're working with a decorator, they'll have lots of options for you. But if you're going it alone, visit a shop or two on South Dixie Highway that sells fabrics and wallpapers, or head to Boca Bargoons in Lake Park or Mac Fabrics and Design Center on Clematis Street.
Once you've decided on a fabric for your windows, it's time to begin considering furniture. If you love your existing sofa or love seats, it's time to reupholster in a pumpkin fabric, one that is very durable. Accent the seating with throw cushions of lime green, plus a couple that you'll cover in the drapery print.
If you have lounge chairs that need an uplift, I say go for a solid wheat-hued fabric.
Brown wood furniture is not out of fashion, even though some might indicate that it is. In this room, I can easily see walnut-stained end tables. They need not match but should be ample enough to hold lamps and at-hand accessories. Lamp bases can be large ginger jars in light orange or wheat.
For the room's area rug, a rich brown and white geometric pattern would look great. And for the coffee table, I would recommend something airy — perhaps one made of clear acrylic or brass and glass.
A contemporary painting can hang on the wall over the sofa. Mount wall brackets to the right and left of the painting so that you can display a prized pair of porcelain Staffordshire dogs.
Use these color and decorating tricks, and your room will certainly be a treat for you, your family and your visitors.
Leave a Reply