Carleton Varney: In fashion and interior design, seersucker celebrates summer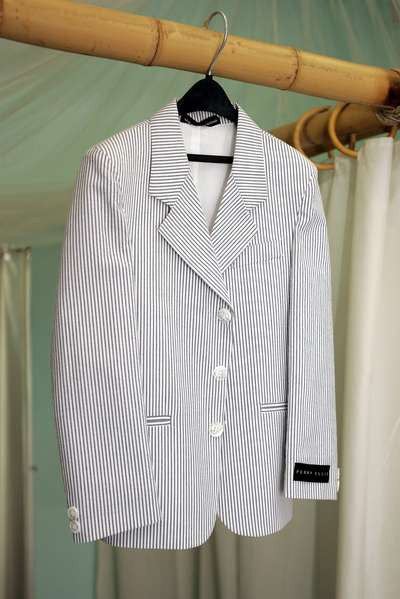 By Carleton Varney
Special to the Daily News
While seersucker is most commonly identified with fashion, you'll find that decorators also favor the fabric for window curtains and slipcovers as well as placemats and other table accessories. I love the look of a seersucker napkin with a scalloped edge.
Why not consider seersucker as a wall-covering fabric as well? You can purchase it from a fabric shop by the yard and begin a seersucker-decorating project in your own home.
Let's envision a decorating project using seersucker in the master bedroom.
First, paint the ceiling a flat pale blue and the trim a bright summer white. Then upholster the walls, ceiling to floor, with pale blue-and-white seersucker. Before the fabric is stretched and secured in place, cover the walls with a batting of wool and cotton, which will make the finished effect smoother. Once the seersucker is in place, the walls can be trimmed with a double welting fashioned from the seersucker fabric.
At the windows, hang café curtains of the same fabric from white rings on white poles. For flooring, I'd like to see a natural-finished, honey-like pine. Pine-board flooring is so summery and simple, a great background for a cotton throw rug or even a natural hemp rug that's not too scratchy for bare feet.
For nightstands, paint old-fashioned tables the same blue color as the ceiling, and trim the legs and drawers in white. A pair of old-fashioned glass lamps would look good with white pleated shades sitting atop the night tables.
For the bed, find a handsome headboard and footboard of shiny-brass for a charming old-fashioned look. Adorn the bed with an antique quilt, perhaps one of New England or West Virginia origin. A great quilt with many patchwork colors would add character to the seersucker bedroom décor.
A vintage rocking chair painted white would add a nice touch to the room's design, especially if it's outfitted with a seersucker cushion. I'd choose a contrasting color, however, like yellow and white. For the club chair in the room, fashion a slipcover out of a white, washable linen fabric. Welt the slipcover in the blue-and-white seersucker for the finishing touch.
Seersucker will always be a summer fabric. But in warm-weather areas like Palm Beach, it's a great year-round decorating choice as well.
Leave a Reply