Will Donald Trump bring over-the-top, gilt design to White House?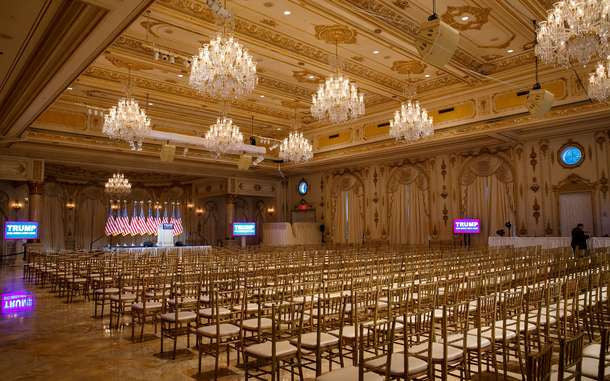 By Carleton Varney
Special to the Daily News
Now that my Palm Beach neighbor Donald Trump has won the presidency, we might try to forecast what may become the Trump style in Washington.
Each of us has a style of our very own, and as I have always told my friends and clients, taste is like the fog — you can see it and feel it but you can never touch it. I truly believe that there is no such thing as good taste or bad taste. There is only taste. What pleases one may not please another.
I recall visiting his apartment some time ago, as I dwell when I'm in New York in the Trump Tower, only two floors below him. Donald enjoyed showing me new painting acquisitions, European art in the serious manner and gilt-framed in the palace manner.
His Mar-a-Lago Club is an attractive paradise, not only to him but also to generations of others. It is a place of fantasy and Donald Trump's style is, I believe, embraces fantasy — or what some might call an "over the top" look. Remember that as a developer and showman, our incoming president worked within the walls of casinos, where chandeliers, lights, color, and fantasy-influenced doorways and arches were part of the adornment.
> Photos: Donald Trump's Palm Beach home Mar-a-Lago
His penchant for using gilt as a decorative motif also is well-known, as the gold-and-white scheme he commissioned for his ballroom addition at The Mar-a-Lago Club certainly attests.
His friend Steve Wynn, the Las Vegas casino developer, has approved interiors for his hotels that are classic, colorful, spirited and, quite honestly, creatively beautiful. Trump has come to do the same.
The Trump family's taste, however, is classic in many ways. First-lady-to-be and former model Melania Trump has an eye for fashion that emphasizes simple lines. It wouldn't surprise me if dressing up will become a renewed part of the Washington scene in the years ahead. My view of the Washington scene envisions lots of color and bling. Who doesn't love the sparkle that bling adds to fashion? I believe Melania certainly understands that.
Over the next four years, I think we'll see the White House emphasizing family life, with plenty of younger ones and older ones participating, much as in the Kennedy family days. I certainly like the classic styles of dress displayed by the Trump children.
I learned Wednesday, by the way, that Trump would like to add a new ballroom space to the White House, a space large enough to hold events accommodating many people. Simply erecting a marquee tent on the lawn just doesn't suit the future occupant's style. (He did the same thing at Mar-a-Lago, adding his ballroom in 2004.) As a former White House decorator, I'm all for adding the ballroom.
So here's a toast to the future — to the Trumps and their tenure in Washington and at Mar-a-Lago, which might become their Winter White House. I'm hoping we can all come together to wish success to the 45th president of the nation.
Carleton Varney

-

Dec 02, 2016
Leave a Reply
ENTER THE WORLD OF DOROTHY DRAPER HOME
Sign up to hear about gift ideas, special discounts and new arrivals.