What To Pack When Moving to Florida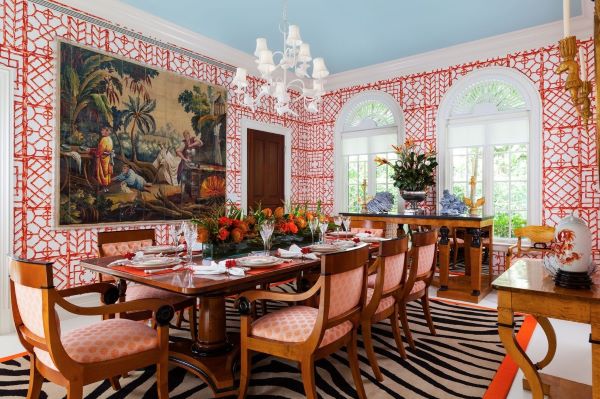 By Carleton Varney Special to The Palm Beach Daily News
It's all about 2020 now, and I'm not talking about vision. The new year has me looking ahead to the next 12 months, when we in the sunshine state will be welcoming plenty of new residents to Florida. In fact, Florida is the fastest - growing state in the country when it comes to transplants from other areas.
And that means plenty of people will be establishing new homes here-and dealing with all the work that process entails. Here are a few tips folks in that category should think about as they plan to furnish and decorate their new Florida residences.
Before Moving south, survey the furnishings in your home. Will the pieces look appropriate in in the Florida environment? Florida design has changed a lot over the years, but there are still some tried - and - true principles to ensure your new rooms won't look like they would be more comfortable in, say a 1700's farmhouse on a quaint street in a Northeastern village. Think light and airy. As you review your inventory of furnishings, keep those pieces you know will work, especially rattan, wicker and white painted pieces. And if your lucky enough to have any framed maps with handsome colors of yellows, pinks and aqua blues, bring them along.
Thanks to our climate, South Florida is a place for open windows. Heavy draperies just do not work here. Florida homes love light, so it's no surprise that we often see sheer window fabrics at the windows.( I like to hang them from bamboo poles.)
Think uncovered floors, perhaps of stained wood or ceramic tile, accented with a colorful area rug. The rug might be all cotton with a design motif from the South Pacific. Florida homes are the perfect place for Indonesian artifacts, lamps and fabrics.
If you have an inventory of Chinese items, they will happily find a place in your Florida home. Bring your coromandel screen and your lacquered end tables, and if you have a Chinese inspired bed headboard, put it on the delivery truck.
But if you have oriental rugs, think twice. Yes, they can work here, but they might seem to weighty if their color schemes are deep plums and burgundies. Light aqua - blue tones are very popular here because they echo the colors of the sea and sky.
As far as art work is concerned, take your old masters, even if they are showcased in heavy gold French frames; I know you won't leave them behind. But if you'll be making new purchases, I think paintings with happy, pastel colors work best in Florida rooms. Waterscapes and landscapes - especially with tropical flora - work so well here.
Wallpapers are often found in traditional - style - homes in northern Florida, say around Jacksonville. But in Palm Beach, we generally don't go for them, unless, of course, they could qualify as art, such as classic or antique Asian designs by Gracie, which are often found in formal dining rooms on the island. Otherwise, our favored wallpaper designs tend to be more casual, with patterns of bamboo, lattice and palm leaves. One caveat: Make sure the wallpapers will adhere to the surface! Beware of using it in rooms with high humidity.
Bring those chandeliers with you. i think crystal overhead works everywhere, providing a touch of glamour on the beach. Once upon a time, I thought crystal was bad news in a Florida beach home. But some of today's apartments and condominiums in Florida's high-rises look like they might as well be in Chicago or New york. Hanging fixtures with crystal or natural glass in pretty colors - think aquas and pinks - are certainly a yes.
Leave a Reply