The Long and Short of Hallway Decorating Tips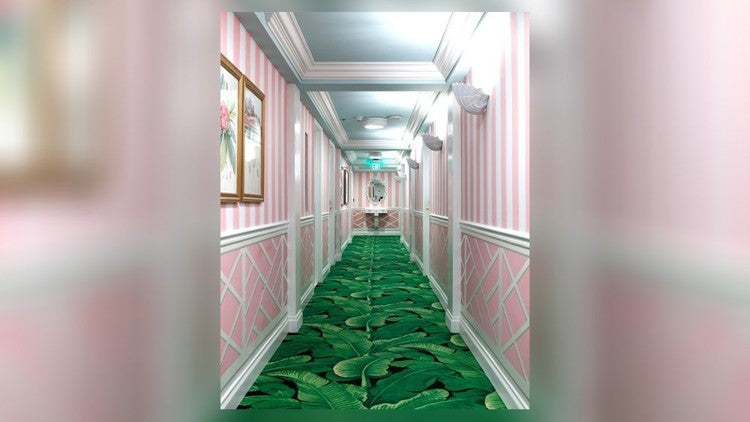 By Carleton Varney- Special to the Palm Beach Daily News
When it comes to hallway design, I sometimes think of the subject as a decorating walk-a-thon. Or perhaps the headline would be: Decorating — the long and short of it.
Quite honestly, I have been a fan of shorter hallways at home — and corridors in commercial spaces — all my life. Ever walked a mile to get a cup of coffee?
At today's generic airports, the departure gate always seems about a mile from your check-in point, and the baggage claim is 2 miles from the arrival gate. Even with motorized walkways, you're likely to arrive worn out and ready for a long sit down somewhere in Terminal A — or B, C, D or E.
I was recently in the Charlotte, N.C., airport, where the golf-cart style vehicles that once ferried passengers from one gate to another were banned amid congestion and safety concerns. American Airlines recently announced that wheelchairs would be used instead for those who need assistance getting to and from gates.
I never did like long corridors, even when I was in grade school. All those corridors were painted pale "hospital green" or other sad beige or gray hues.
I have been a decorator of hotel corridors, hospital corridors and cruise-ship corridors for many years, and I have learned a few visual tricks to give the impression that the hallway isn't nearly as long as it truly is. If your home has a hallway that could use a little shortening — without the expense of reworking the floor plan — try a few of these tips:
* Paint the doorways of the bedrooms different colors — maybe pink, aqua blue, soft green, or yellow. The colorful doors might hint at the decorative schemes beyond the doors.
* Install a chair rail in the hallway. Paint it a bright white and wallpaper the above walls with a trellis-like garden design.
* Or consider installing column-design wallcoverings along the hallway to break up the length at strategic points.
* Try breaking up long hallways with a carpet pattern that has a break or two in the pattern. Think about hotel corridors you've walked where this trick has been employed.
* Do not install a row of light fixtures on the ceiling. Try wall sconces.
* Hang some interesting art along the hallway walls, with picture lights to accent each piece. In some airport corridors, art from community colleges and art schools decorate the walls. The art helps distract the eye, making the walk seem shorter.
And if all else fails, think of a corridor as an unexpected opportunity to get a little exercise.
Leave a Reply