Spring colors bloom for room makeovers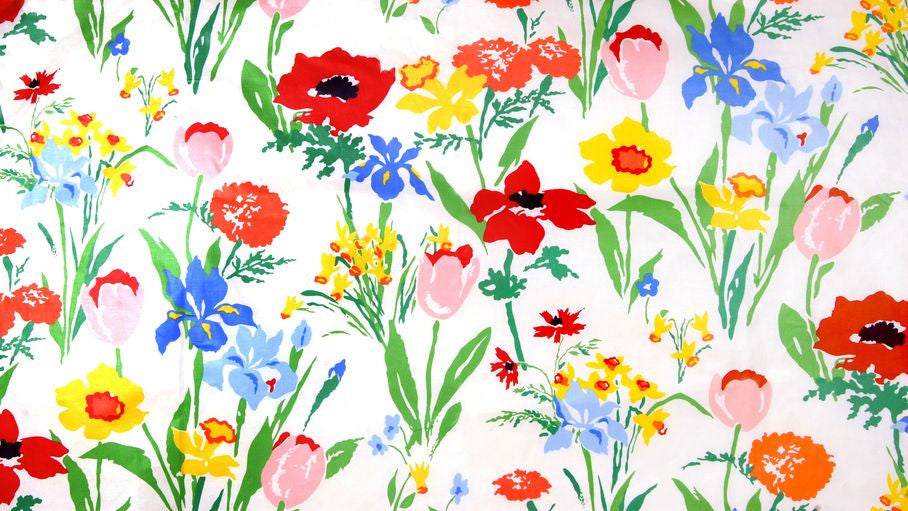 By Carleton Varney
Recently, while shopping for unusual candle holders for a restaurant project, I passed along 27th Street on Manhattan's West side. The day was a sunny one, and all the wholesale flower dealers were busy bringing into their shops branches of forsythia, pussy willows and quince. The pavement area outside the shop windows was arranged it looked almost decorated with flats of yet-to-blossom daffodils, tulips and hyacinths, as well as small pots of purple crocus.
Despite the fact that New York had enjoyed snow-showers the day before, I knew spring was here. I had, only two days earlier, been in Palm Beach, where the weather was rainy with peek-a-boo sunshine. So all is well: To appreciate the sunshine, we have to have some clouds and rain and, I guess for New Yorkers, even some late-season snow showers.
With Passover having arrived on Monday and Easter yet to come Sunday, flowers of the garden are welcoming Springtime 2010. And, with their welcome, I'd like to introduce you to, perhaps, a new look for your entryway, living room and dining room.
Here is a "live vividly" decorating scheme that begins with jonquil/daffodil yellow. Cover the walls of your entry hall or reception room with a striped wall covering of daffodil yellow and white — one that has 3-inch- or 5-inch-wide vertical stripes.
If you have a wainscot in the area, paint it white. I hope your entry's floor is covered in black-and-white marble squares — 18 inches square and installed on the diagonal. Hang a large, shiny brass-and-glass lantern from the ceiling, which has been painted a very pale robin's egg blue.
Now, let's turn our attention to giving your all-year-round living room a springtime air. No matter what the size of the room, paint the walls robin's-egg blue in a cross-stripe pattern and then have the finish glazed. All trim and moldings should be white semi-gloss enamel.
At the windows and French doors, hang drapery of daffodil-yellow linen. Trim the side panels of each drapery panel with a green-and-white braid — choose a springtime green, please.
On your polished wood floor, lay a rug, perhaps a needlepoint example that features clusters of happy-colored garden flowers. There are many such rugs on the market. Some are made in China with clusters of daffodils centering square panels that are divided from one another by a green-leaf trellis pattern. The rugs sometimes also feature violets, roses, tulips, hyacinths, cornflowers, carnations — with all those beautiful colors that say "springtime" all year round.
Your upholstery pieces can be covered in white linen, accented with pillows of all the happy Easter colors that are presented in the carpet. Lamps, perhaps, can feature bases of bright yellow in the gourdlike styles that designer Christopher Spitzmiller has made famous. After all, they say, a room without a Spitzmiller lamp lacks the touch of magical color that the designer has mastered. He certainly knows all there is to know about coloring ceramics!
Now it's on to your dining room, where I advise covering the walls in a yellow-and-green trellis-patterned wallpaper with a white background. If I were decorating your room, it would likely have curtains fashioned from one of my favorite designs, a happy fabric called Les Fleures de Toulon. This fabric features every possible color in the springtime garden and would coordinate with rooms throughout the entire house or apartment.
In Palm Beach, there are a number of wonderful flower shops. But folks on the island also are fortunate to enjoy the fresh flowers sold at Publix, where the potted lilies, hydrangeas and azaleas are always ready to pick up at the very last minute and add to the cart.
When I enter Publix, I look first at the flower area, but I choose my selection just at the time my grocery cart is being emptied and tallied. Then I add to my items those magical flowers that bring such cheer into life. Such springtime blooms would look wonderful in your springtime room!
I traveled back home to Palm Beach this week to enjoy the pool weather of the season — and to help celebrate the 87th birthday of my great friend, James Nederlander, on March 31.
I love celebrations of every kind, just as I'm sure you do. So Happy Passover and Happy Easter — and while I'm at it, happy spring!
Carleton Varney

-

Nov 03, 2016
Leave a Reply
ENTER THE WORLD OF DOROTHY DRAPER HOME
Sign up to hear about gift ideas, special discounts and new arrivals.