Purple perfect for jewels and design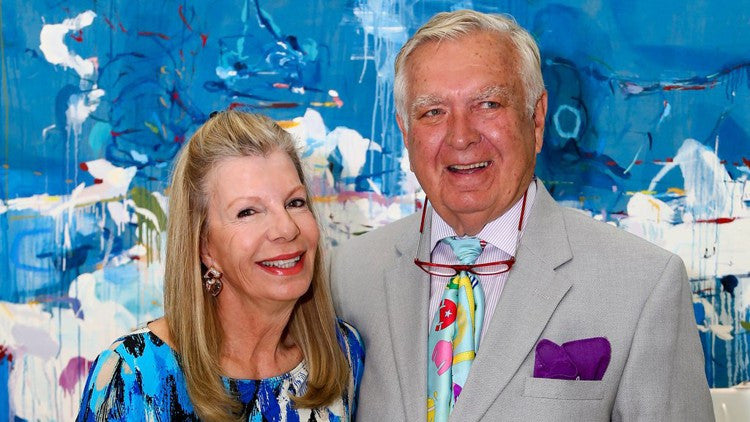 By Carleton Varney - Special to the Palm Beach Daily News
Again this season, I'm thrilled to serve as co-chairman, along with co-chairman Princess Yasmin Aga Khan, of the annual Alzheimer's Association Luncheon at The Colony.
During the silent auction at the event on March 10, one section of items up for bid will be devoted to items featuring all shades of purple — the color associated with the association. You can be certain to find some gold and amethyst jewels in the mix.
Even before my involvement with the group, I was a fan of purple, a royal color, especially in velvet as a becoming backdrop for, say, the crown jewels.
All shades of purple — from the lightest lavender to the deepest violet — are popular decorating colors these days. For the classic traditionalist, I might suggest dark-and-deep aubergine walls with white-white woodwork trim and a ceiling painted sky blue. Deep-purple walls are an ideal background for gold-leaf mirrors, antique mahogany furnishings and fine art paintings duly framed in ornate wood and gold leaf.
If you go lighter with lavender walls, whether in the living room, family room or bedroom, the color might be nicely complemented by a royal blue carpet on the floor. For a happy look at the windows, find a chintz with a delphinium flower pattern featuring purples, lavenders and royal blue on a crisp white background.
I can't really think about lavender without thinking about the late Elizabeth Taylor, who was definitely a lavender lady – and not just because of her famous violet eyes. The bottle she chose for her perfume creation, Passion, was an Art Deco-inspired design in purple. In the same vein, amethyst is a gemstone Liz loved, although she also owned at least one rare lavender sapphire among her extensive jewelry collection. Liz always had options, as we all know, along with plenty of talent and a charitable legacy that included her ground-breaking efforts for AIDS research.
There will only ever be one Liz Taylor, folks — a real gem!
Leave a Reply