Pucci Designs Continue to Pack a Punch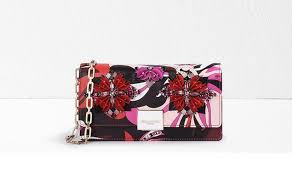 By Carleton Varney- Special to the Palm Beach Daily News
Everything old is new again, right?
Back in the 1970's, I had the pleasure of getting to know the late Emilio Pucci when my family and I traveled to Switzerland to spend the winter holidays in Gstaad. Signor Pucci was the Picasso of fashion, as I thought of him - and still think of him. He was also a chalet neighbor and we often visited. I sometimes even traveled with him.
Emilio created designs that are classics and still sought after today. With their graphic patterns and bold colors, his designs have been favorites of fashionistas for decades.
I recently noted that The William Wright Collection, a South Dixie Highway shop featuring vintage apparel and furnishings on West Palm Beach's Antique Row, has on display in one of it luxury cabinets a silk Pucci scarf in blues and greens and aqua, priced at $150.
And among the shop's fashion collection there are Pucci dresses, beach cover-ups and blouses, all in different colors that need to be seen to be appreciated.
The designer is best known for his apparel and accessories. But I have used some of his prints to add sparkle and style to decorating projects. For golf star Sam Snead's residence suite at The Greenbrier Resort in White Sulphur Springs, West Virginia, I chose for curtains, window valances and a bed skirt a combination print of aqua and lime green. I upholstered a club chair and ottoman in a similar color, using Pucci-signed beach towels. Yes, you can use toweling fabric for upholstery, and clients of mine report it's very comfortable seating.
The Pucci company is still going strong, of course, offering some of the early designs but also looks made for today. Search for Pucci on the internet and you'll find merchandise ranging from Pucci face masks to high-end handbags.
The famous Pucci combination of magenta, black and gray- with dashes of white- can offer the modernist a bit of inspiration when decorating. Here is a Pucci-esque plan for decorating a living room in the Firenze Italian way.
Begin by painting the walls a very soft blush pink and all the trim white. For your sofa or sectional, choose light green upholstery and accent it with cushions of cerise, white and aqua blue. If you can locate a Pucci original dress in the color scheme - and can bear to cut it - the print would be wonderful for cushions.
Your lounge chairs can be aqua blue chenille. And at the windows install louvered shutters painted cerise.
I'd choose end tables and coffee tables in a bright white finish and lamps with bases of a rich turquoise. For your flooring, I hope you can find a source to make you a rug in an Emilio Pucci pattern.
That's a good start on a room honoring the Picasso of fashion, wouldn't you say?
Leave a Reply