Pearls Make a Fashion Statement as Jewelry and a Design Choice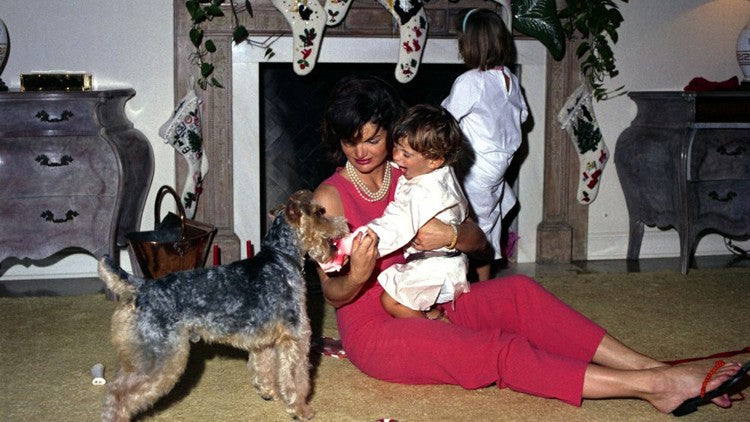 By Carleton Varney- Special to the Palm Beach Daily News
I never get tired of seeing pearls — and it seems, neither do women around the world, who adorn their necks, ears, wrists and fingers with these lustrous gems. The late first ladies Barbara Bush and Jacqueline Kennedy were famous for not only their commitments to causes in America, but for the strands of pearls they so frequently wore.
Little John John loved to pull at his mother's pearls, as I seem to recall from a photo taken when the late John F. Kennedy Jr. was a toddler.
Barbara Bush loved her 10MM strands that she said she wore to disguise the wrinkles on her neck. I loved Mrs. Bush for her white hair, which so wonderfully set off those white pearls. I sometimes wonder if she had any pearls of black or gold or pink or green. Pearls are sold in all colors and while they are sometimes dyed, they are always glamorous.
Other glamorous stars noted for wearing pearls include the late Grace Kelly, princess of Monaco. And who could forget the magical pearl ensemble the late Audrey Hepburn wore in Breakfast at Tiffany's?
While pearls worn on the body make a fashion statement, so do pearlized finishes used in the home.
A case in point: Our firm is creating the interiors for a residential project on the Hawaiian island of Maui. For the powder room, we selected a pearlized capiz shell material that is applied to wall surfaces as if it were wallcovering. It is available in several soft tones, including pink and golden white. It's not only glamorous, but also perfect to accent an island home.
When shopping for a pearl look in decorating, you will find mirrors and tables of all sizes with pearlized finishes. I saw a pair of such lamps in a recent sale held by Kofski on 5501 Georgia Ave. in West Palm Beach, where pearlized pieces often pop up. Owners Melanie and Chris Hill have been doing a great decorating service to the community for years, and I hope the business remains for many more to come.
In Palm Beach, you can find a variety of lovely shell pieces at FS Henemader Antiques, 316 S. County Road.
And for many years, former Palm Beacher Christa Wilm has been fabricating exquisite decorative accessories and lighting fixtures from seashells. Her studio at 728 Belvedere Road, Christa's South Seashells, is open only by appointment by calling 655-4650. Or visit her website to see the range of her products at csseashell.com.
If your Palm beach dining room needs an update, consider adding a pearlized chandelier — or one actually decorated with seashells — for a look as lovely as a strand of white pearls.
Leave a Reply