Palm Beach Decorating: In The Pink for Valentine's Day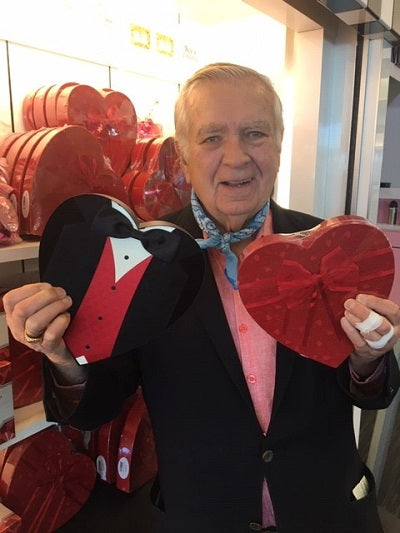 By Carleton Varney- Special to the Palm Beach Daily News
If you are a Palm Beach card player who is into bridge, you might know my friend, master bridge player Louise Aylward, who next Friday would be my choice as Queen of Hearts for Valentine's Day.
With her signature style and charm, Louise has been a decorating pal of mine for many years. She was responsible for providing wicker furniture when the presidential yacht Sequoia was reconditioned and decorated some years past.
She also proudly provided period furnishings during the decorating of the Neenah Foundry office building in Neenah, Wisc. That company is a well-known manufacturer of manhole covers, among other metalwork.
Once known — and still known to some — as the "Queen of Manhole Covers," Louise is one of my favorite Valentines of 2020. Her Gulf Stream home is filled with a majolica collection that's much admired by her friends and visitors. And those who know majolica ware — with its pinks and corals, aquas and pale greens — also know it feels right at home in Palm Beach.
I think majolica would, perhaps, be a terrific Valentine's gift. Some of the shops on West Palm Beach's Antique Row have nice selections of majolica, including Patricia's Gallery at 3608 S. Dixie Highway and Brass Scale Antiques at 3721 S. Dixie Highway.
Other Valentine's day gifts that come to mind are pretty pink porcelains and glassware. Think pink water goblets or dessert dishes, such as the ones you might find at Mary Mahoney, 336 Worth Ave.
Of course, one Valentine's classic is always in style, a pink or red heart-shaped box filled with chocolates, caramels and buttercreams. Honeycomb chocolate is my favorite. I made sure to send Louise a heart-shaped box of See's Candies on a recent visit to Los Angeles.
Closer to home, Peterbrooke Chocolatier at 298 S. County Road will no doubt have plenty of Valentine's goodies. And Hoffman's Chocolates' flagship store at 5190 Lake Worth Road is always worth the drive out west to Greenacres this time of year.
Candy may be a Valentine's classic, but heart-shaped jewelry can be even sweeter. I always enjoy seeing a woman wearing a diamond-encrusted heart pendant — and I like it even better if the stones are pink. There are other pink stones, of course, including morganite. I've also seen gold heart-shaped pendants set with blue sapphires and even black spinel.
Valentine's red isn't a very common color in Palm Beach, although you can sometimes see it in the hibiscus that blooms here. But Valentine's pink is everywhere in Palm Beach, from blush-pink houses to the salmon pink — named Walcott Salmon — that my firm used to paint the exterior of The Colony a few years back.
The hotel building recently earned landmark protection, so the color will remain in place until the Landmarks Preservation Commission says otherwise. Perhaps its signature Walcott Salmon pink will be here to stay. (For those who like the color, it's from Fine Paints of Europe and can be ordered direct from the company, which is based in Woodstock, Vt.)
This Valentine's Day, I'm reminded how beautiful Palm Beach is and how thankful I am to enjoy the sea and the sun and the colors that surround us.
I'm hoping your holiday next Friday is filled with love and happiness, and I'm sending a special Valentine's Day hug — along with those fabulous See's Chocolates — to my friend Louise!
Leave a Reply