Musing on hotel linens, crystal and china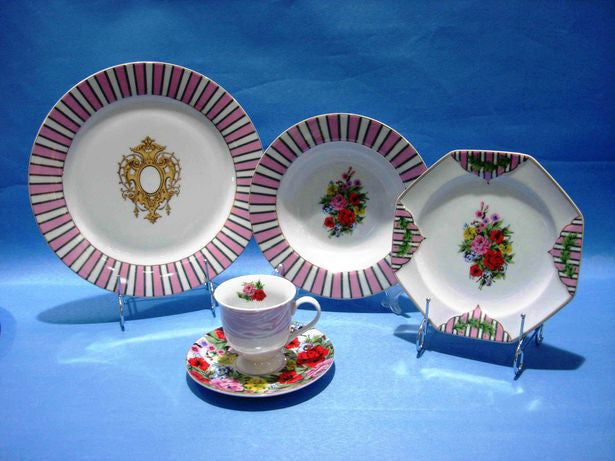 By Carleton Varney
Special to the Daily News
Here are a few observations on this and that, but I'll leave it to you to decide whether I'm on the money.
■ Anyone who visits a luxury chain hotel these days enters a room where the bed is covered with a white duvet cover that has inside it one of those cushy, invite-me-in kind of comforters. Meanwhile, the headboard is stacked with mounds of pillows — there are king-size, square and regular-size ones, as well as a big bolster smack in the center.
At the foot of the bed, you'll find what has been termed a "scarf" — it's simply a piece of fabric, sometimes corded and definitely double-sided. The scarf isn't large enough to be used as a quilt or a blanket. It's just there, pretending to be a folded-back bedspread. Maybe it's there for color. In any case, given these health-conscious days, long gone is the old bedspread, rarely cleaned and harboring who knows what. So we're left with a duvet-clad, pillow-topped comfort zone accented with a fabric scarf — puff, puff, puff!
Now, what is the scarf supposed to do? And what, if anything, does the hotel guest do with it? My suggestion is to store the scarf in the dresser drawer or simply keep it on the bed to protect the duvet cover.
In any case, I wish grand hotels could go back to the days of quilts or decorator blankets — cleaned regularly, of course — at the foot of the bed. It would be something that actually does something for the guest! And bye-bye, strange bed scarves!
■ I was chatting recently about glasses for wine and other drinks with my neighbor in Palm Beach, Christina Marino, a former Radio City Rockette who dwells on the lakeside with her favorite four-legged friend, Happy. She told me that her friends, when visiting her for cocktails, have a favorite glass from which to drink, whether they are having a cocktail, a glass of wine or simply a tall iced tea.
Now I know that I, too, desire appropriate glasses in the restaurants I frequent. I like, for instance, red wine poured into glasses that have no thick lips and with bowls that are large and thin. I never return to a restaurant where red wine is served in those small, cuplike stem glasses.
I have observed that for high-ball and other cocktails, glasses with weighted bases are the preferred choice. And at Christina's, my cocktail was served in one of the most handsome glasses I've seen — a tapered one with engraving and a weighted base of hobnail glass. When I picked up the glass once it was empty, I noted the brand, Rosenthal, engraved onto the base.
I am presently designing a line of glass pieces for Waterford Crystal, among the most revered names in the industry. The glassware, once the pride of Ireland, today is manufactured in Germany and the Czech Republic, where the patterns Lismore, Adare, Alana, Colleen, Kincora, Maeve, Tramore and Marquis are fabricated. When the Irish Waterford company was sold a while ago, there was much consternation on the Emerald Isle, but the new owners are planning to open a small factory in the Irish Republic, where special pieces will be produced.
The heritage of Waterford Crystal is rooted in Ireland and, no matter what comes or goes, Waterford Crystal will always be associated with its birthplace.
■ Have you noticed of late that restaurant and hotel dining-room china services, including plates, cups and saucers, are always white? Seems chefs of today want to show off their culinary creations — and all those sauces and squiggles of raspberry and chocolate — on white backgrounds.
Quite frankly, I like colorful rims and patterns on my china. No Puritanism for me where tableware is concerned! Give me a beautiful table, where the rim of the china is pink and green, or flowered, or decorated in gold latticework, perhaps over aqua blue.
You won't be surprised to learn I chose colorful rims and lively center patterns when I designed a new collection of china, named Greenbrier Garden, for HSN.
June is the month for brides, and when a new bride selects her china pattern, I'm certain it won't be plain white. In my experience, they may choose white for their bridal gowns but not for their china patterns.
Carleton Varney

-

Nov 04, 2016
Leave a Reply
ENTER THE WORLD OF DOROTHY DRAPER HOME
Sign up to hear about gift ideas, special discounts and new arrivals.