Metal Adds Mettle Throughout a Home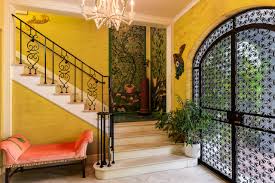 By Carleton Varney- Special to the Palm Beach Daily News
If you live in Palm Beach, decorative metal work is very much a part of everyday life. We see it in the ironwork details on staircase banisters, on patio chairs, on porch lanterns, and on glass front doors with metal grills. And that list doesn't even include driveway gates, balcony railings and fences. Without question, these details can fanciful and visually interesting.
There really seems to be no limit to what can be done with metalwork. Near my studio and showroom in West Palm Beach, I have a business neighbor named L&L Ornamental Aluminum & Iron Works at 5601 Georgia Ave. Its showroom is filled with grillwork fantasies.
In Palm Beach, we often see ironwork in jet black or bright white. But metalwork needn't be so limited in color — it can be finished in gray, bronze or off-white, with applied details on the rails treated in gold, silver or copper tones. The combinations of finishes is practically limitless.
Our Palm Beach architectural hero, society architect Addison Mizner, was a grillwork enthusiast. When you're passing by a Mizner mansion — or a building inspired, perhaps, by one of his Mediterranean-style fantasies — note the fanciful grillwork on doors, at windows, on balcony railings or on the lanterns. Even the brackets that hold the lanterns can have handsome and elaborate trimmings.
Handsome grillwork also has inspired amazing patterns in fabric and wallpaper designs to use for drapery, upholstery and wallcoverings. Our firm has used grillwork-patterned fabric in many of its design and decorating projects. For a client's entry foyer, we recently chose a grillwork-scroll wallcovering with a pattern of aquamarine blue on silver, which sparkles in every way on the curved walls of the winding staircase. The grillwork pattern adds a touch of visual magic, as it is a direct copy of the grill pattern used below the staircase handrail.
To complement the wallcovering, a silvered chandelier hangs above the staircase, trimmed with aquamarine crystals. The ceiling dome from which the chandelier hangs is painted the softest aquamarine blue, and the overall effect is glamorous and bright.
If you are choosing wallcovering for a powder room or, perhaps, a dining room, you might consider the many grill patterns on the market — some are small in scale, others medium, and then there are larger designs that are quite bold.
With today's design capabilities, you can custom color your grillwork wallcovering in any tone you wish. Think of yellow on gray, or white on black, or all the happy colors — aqua on white, red on white, or even peach on white. And don't forget silver on white! Metallic wallpapers continue in popularity in today's decorating markets.
Even with all these choices, I am often drawn to fabric with a classic black-on-white ornamental railing pattern. You might use as an element in a drawing room that will say both "welcome" and "wow." First, consider painting the walls a rich watermelon-red lacquer with white trim and a white marble floor.
At the windows, install black drapery poles with gold trim on the finials. hang draperies sewn from the black-and-white ornamental grillwork- and line the panels in a spicy and rich lime green silk.
Lay a large white-on-white rug on the marble floor, which should be bordered in black. Upholster your sofa in black silk and accent it with throw cushions covered in the grill design fabric. Place a pair of curved-back lounge chairs close to a coffee table finished in black lacquer. The chairs can be covered in lime green silk.
Find some contemporary art that you love- big, bold and colorful- to hang on those watermelon walls.
Then, please invite me over to see how it all turned out!
Leave a Reply