Let Your Paintings Inspire the Decor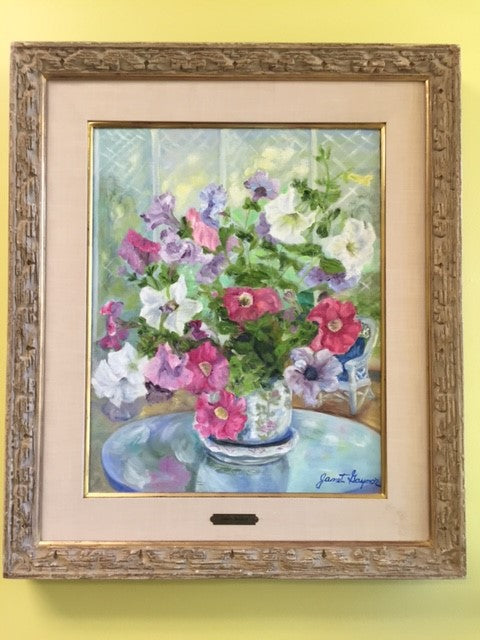 By Carleton Varney- Special to the Palm Beach Daily News
The recent reimagining of the Royal Poinciana Plaza has given the town so much to talk about. Even TooJay's, one of my favorite casual dining spots, has a new look, with simulated wood plank flooring and up-to-date table and chairs, not to mention its longtime access to the lately refurbished courtyard garden.
Just next door is the sparkling Fritz Art Gallery, which opened last spring and has on display some striking works of art that I could easily imagine hanging on the walls of homes and offices- and even yachts.
Wendy Fritz is the daughter of celebrated artist Donna Long, whose works are among those hung in the gallery. Fritz is certainly knowledgeable about who's who and what's what on the art scene. I look forward to seeing what her gallery will be presenting this season.
I find that art in the home expresses a lot about a person's style. Enjoy someone's art and I've found you'll often enjoy the person. Many of my clients over the years have been painters themselves, some amateur and others professional, and I've sometimes included their own work in decorating projects for them.
Many film stars also have been painters, including Jimmy Cagney, Anthony Quinn, Tony Curtis and Van Johnson. If you are interested in seeing their work, a Google search will deliver the fascinating goods. Quinn's painted works, for instance, sell for many thousands of dollars, and his sculptures are worth a look.
Also notable on the list of Golden Age stars who expressed their artistic bent on canvas is Janet Gaynor, who was nominated for an Academy Award for her leading role in the 1937 version of "A Star Is Born"- a film I notice has been remade for the third time, with the about-to-open remake starring Lady Gaga. She'll be stepping into the role assayed by Judy Garland and Barbra Streisand.
Some time ago at Kofski Estate Sales on South Dixie Highway in West Palm Beach, I was fortunate enough to find a floral oil painting signed by Gaynor, and I have since hung it in a prominent place. Miss Gaynor had a gardenlike technique that is very much one I use in my decorating work, with happy colors and trellis backgrounds. She also had the ability to paint flower arrangements that never looked stiff and stuffy.
When planning a room's décor, it is sometimes helpful to study a painting you like and borrow the colors from the canvas to use on walls, floors, drapery and upholstery.
And if you pass by Royal Poinciana Plaza en route to TooJay's - or, perhaps, to Honor Bar, another favorite- stop and visit the Fritz Gallery for some color inspiration in the spectacular works.
Leave a Reply