Hanging pictures correctly lets your walls do the talking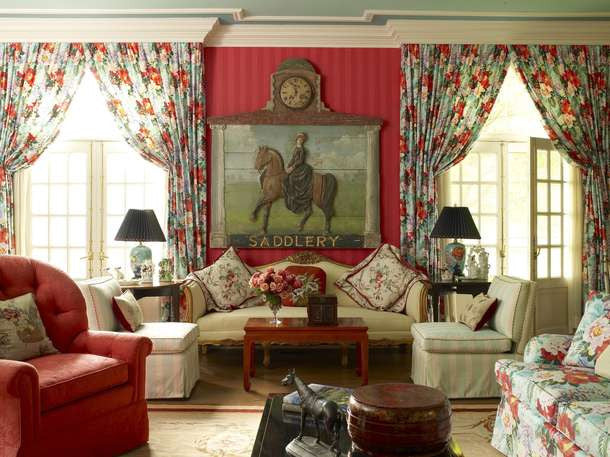 By Carleton Varney
Special to the Daily News
As a decorator, it seems I am always pounding picture nails into walls
Picture hanging is an art in itself, to say nothing about the art of framing and the selection of mats, frames and fillers.
Palm Beachers are lucky indeed to have several picture-framing experts in the area, including Stephen Johnson, who is based on South Dixie Highway in West Palm Beach. The team at Johnson and Co. will show you hundreds of picture frames in all sizes, shapes and materials, from leather to zebra stripes to colorful patterns inspired by malachite and lapis. The team will also help you select mat colors and fillers, and assemble the pieces around art being framed for your approval.
Sometimes I do use screws and electric drills to help with picture and mirror hanging. Sometimes I have assistance from a carpenter with a ladder when I'm aiming high on the wall.
When I hang any picture, I always use two picture hooks for each piece of art. I place the hooks – or the nails or screws — about 6 to 8 inches apart. Why use two hooks? To prevent the picture moving and dipping from one side to another. Two hooks should keep the picture on the wall straight.
When you are hanging artwork, make certain that pieces are not hung too high. I like mirrors hung at a height where one can see oneself straight on — never too high or too low. Shorter folks often rewire mirrors to be hung lower than usual, another factor that should be considered when designing a bath vanity. I learned early on that decorators should always know their clients' heights so vanity levels are neither too high nor too low.
When considering a wall arrangement, you might consider hanging four small, framed prints together. Place one above one of the others. Then hang the other two on either side, splitting the difference for an interesting wallscape. Collections can be displayed on shelves or brackets in groupings to create visual interest.
In the same way, I like an oval painting with wall brackets on either side supporting a decorative item. You might also consider using a wall tapestry flanked by a pair of candlestick brackets, perhaps for a dining room above a service piece.
So many wall accessories can give a room interest. My friend Amelia Musser of Michigan, who bred the famous Westminster champion Sadie, uses blue ribbons framed as wall decorations in her home. They are so colorful, and how much interest and personality they add to her dining room!
Another friend who loves and collects Hermes scarves frames her favorites and hangs them on walls in her guestroom. Frame a 36-inch square scarf, and you'll find it perfectly proportioned for a headboard wall as well as for wall décor in the living room above the sofa.
When decorating your family room or kitchen, you might consider hanging a sign from an old barbershop or from a tavern. Regular readers know that I am an inveterate shopper and have found many signs available for sale in roadside antique shops across America.
Remember: A well-decorated wall can be a focal point of your design and display your interests.
Carleton Varney

-

Dec 02, 2016
Leave a Reply
ENTER THE WORLD OF DOROTHY DRAPER HOME
Sign up to hear about gift ideas, special discounts and new arrivals.