Carleton Varney: Don't make light of details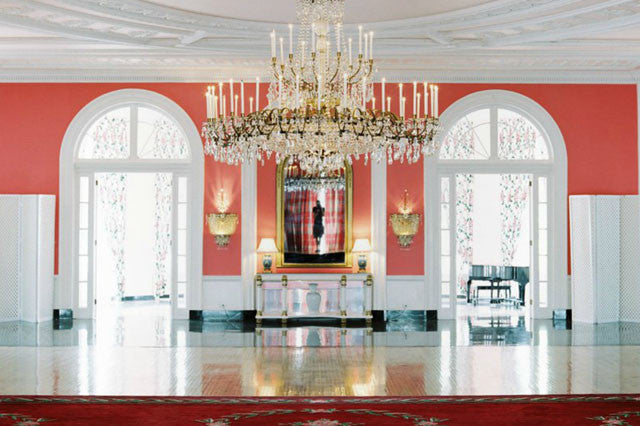 By Carleton Varney
Special to the Daily News
When you think of table lamps, standing lamps and even chandeliers, you no doubt also think of shades, shades and more shades.
Lampshades with stripes, with dots, with pleats and in an array of colors — Alan Salomon has them all in his Antique Row shop, Heath & Co., 3707 S. Dixie Highway. And besides that, Alan knows all there is to know about the finial — that magical jade, crystal, bone, metal or glass jewel that you screw onto the harp to top off of the lamp.
A finial is to a lamp as an angel or star is to a Christmas tree. And while Alan does not sell Christmas-tree tops, he does sell, I think, the best assortment of lampshade finials in the Palm Beaches.
Brinsley Matthews, the designer who is working with me on the revamping of The Colony hotel, recently stopped by Heath & Co. to select all the finials for the lamps in the redesign of the resort's villa suites as well as the penthouse suites. Alan's selection was overwhelming, but in a good way — the perfect green final for a lamp painted malachite, the perfect white baroque-style finials for lamps going into the bedrooms.
Yes, for a designer, it can come down to finding the right finals to add a special touch to a room, just as it does for a woman who knows the importance of choosing the right earrings and bracelet to complete an ensemble.
Brinsley and I want to share some designer steps about lamps, shades and, of course, finials:
* When selecting a shade, make sure it is tall enough. Never, but never, show the skinny pole that holds the light bulb. The shade must always cover the neck.
* When buying a new lamp or having an old one rewired, be sure to choose a double-light cluster, never a single version. Bulbs burn out, and this way, there will always be light until the bad bulb gets replaced. Pull chains or one-and-off knobs aren't necessary if the lamp has a switch on the cord. That's what I prefer.
* When wiring a lamp to use on a white table surface — where the cord will show — make certain it is a clear cord. Lamp cords on a black table surfaces should be black. For wood or brown-stained tabletops, choose brown cords, please!
* When placing lamps in a room, position them so the tops of all the shades align at the same height. In a bedroom for example, night tables lamps should be taller than those lamps placed on a higher dresser. You might not think this tip matters much, but assuredly, it does if you want your room to have a finished, in-scale look.
* This is the era of bulb choices, so make sure when buying bulbs that the quality of light given off is the same from lamp to lamp. It is horrific to walk into a room where one bulb shines cold white light while another provides a warm tone. Be very careful about the color of light. Details count.
* And as Alan at Heath & Co. would say, it's all about the finial, folks! Choose one that relates to the base of the lamp and complements its style and that of the shade. But don't be afraid to go for a little whimsy, if something special catches your eye. Remember, finials are like jewelry — they provide the finishing touch.
Carleton Varney

-

Nov 30, 2016
Leave a Reply
ENTER THE WORLD OF DOROTHY DRAPER HOME
Sign up to hear about gift ideas, special discounts and new arrivals.