Book provides colorful look at cottages in Lake Worth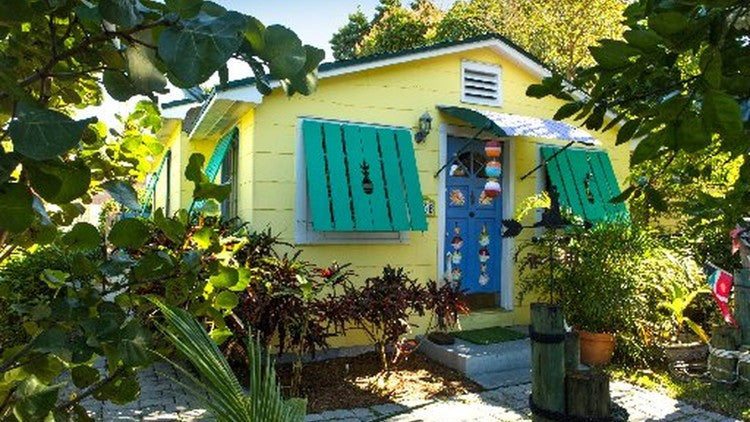 Every so often a design-oriented book arrives on my desk that I find delightful, charming, informative and truly beautiful to look at, explore and wonder about. Such is a book published by The Cottages Press in Lake Worth, and the book's title is similar to the name of the publisher — The Cottages of Lake Worth.
Since I first saw it, I have purchased several copies from Studio 205 at 600 Lake Avenue in Lake Worth, a magazine and bookshop that's also a boutique with trinkets extraordinaire. Andy Amoroso, the proprietor, will fetch you a copy of the book if one is not on display.
Authors Dean Sherwin, Janice Snearer and Taylor Jones have filled 232 pages with eye-candy houses, interiors and gardens that will delight the soul, along with insights into the history of Lake Worth that make for an interesting read. Small lots of land — some just 25 feet wide — formed the beginning of the neighborly community, a place where the villagers could walk to work, to the doctor's office, to the grocery store and to the barber shop.
Lake Worth, Palm Beach's neighbor to the south, is a place that seems destined to attact tourists. Visiting Lake Worth is a trip into Florida's past, and the town is home to many new residents who wish to live in simple comfort among the delights of the flora, the Intracoastal Waterway and the beach fronting the historic Lake Worth Casino.
Within the book's pages, you'll find pictures of cozy porches that would be perfect spots to sip a cup of tea. You'll also find houses painted lavender and aquamarine — the town is filled with color, color, color! A pot of paint, it seems, is all you need to decorate a Florida cottage. I love painting a shingled house hot pink, and in the book, there is even a cottage nicknamed the Crayola House.
You'll see the oldest cottage in the community, built in 1914, and homes with with allamanda vines draped over arbored entrance ways. You'll see a home where an eclectic collection of stepping stones leads into a patriotic cottage of red, white, and blue.
There are gardens with handsome old ficus trees, and windows treated with decorative and functional awnings so special that you might be inspired to recreate them for your own home.
There are so many super decorating ideas. In the book, one of my favorite photos shows slatted-wood window awnings painted pale blue and accented by a cut-out pineapple detail. You'll also see birdhouses, tin roofs, green-and-white striped picket fences, mission style houses and swimming pools that are cozy but cooling — every cottage needs one!
If you delight in color, charm and old world Florida, The Cottages of Lake Worth is a must for your home library! I just cannot say enough good things about this book.
Leave a Reply